>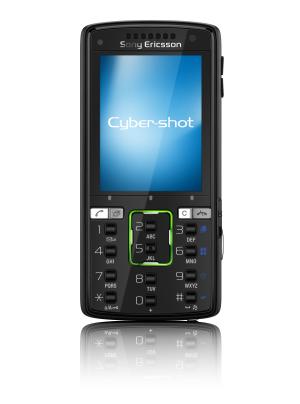 For camera phone lovers out there, there are two new beasts about to go head to head in the form of the Sony Ericsson K850i, which will be released soon, and the Nokia N95 super-phone.
Both phones follow a different design philosophy.
The Nokia N95 is packed to the teeth with features, including GPS Sat-Nav, HSPDA and Wi-Fi, whereas the Sony Ericsson K850i is first and foremost a dedicated camera phone.
Where they come clashing together, though, is in the quality and resolution of their cameras.
Both phones, you see, sport a 5 megapixel camera with auto-focus and a wide range of camera features to help you take the best picture.
Indeed, such is the quality of the photos that either phone can take that it's fair to say they're the best camera phones on the market today.
But which one is best? Only a
Sony Ericsson K850i vs Nokia N95 shoot-out
can decide for sure.
Round 1: Sony Ericsson K850i
The
Sony Ericsson K850i
has been designed from the ground up to be more like a camera than a phone. Sure, it's got all the phone features you'd expect - tri-band HSDPA, quad-band GSM and EDGE connectivity, Bluetooth, Java, polyphonic ringtones, etc., etc. But it's the attention to detail that's been paid to the phone's camera that marks the K850i out as a class-beating camera-phone.
This attention to detail can be found even in the camera's lens, which, unlike other camera phones, hidden under glass, and recessed relative to the rear face. The reason for this, apparently, is that Sony Ericsson wanted to make the phone look more like a conventional digital camera; so much so that there's even a dedicated camera on/off key as well as a mode switch – these two are housed on the right-hand side of the phone.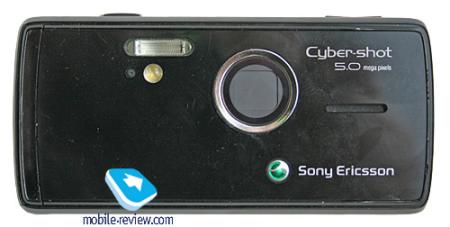 Of more importance is the detail that comes with the camera and its associated software settings. The K850i comes with not one, but two flashes - a xenon flash, and an LED flash, which improves pictures taken at night. It offers four different modes, including normal, BestPic (which takes a burst of pictures rapidly, letting you choose the best one), Panorama (which stitches three photos together), and Frames (which lets you select various frames that will frame the resultant image).
The K850i comes with auto-focus, and also intelligently switches between macro and normal mode depending on what you're taking a photo of. However, If you're after a different look, or can't quite get the look you're after, you can also choose between the following Scenes according to the subject you're taking a photo of:
Auto
Twilight landscape
Twilight portrait
Landscape
Portrait
Beach/Snow
Sports
Document.
Hopefully, these should all be self-evident!
In addition to all this, the K850i also comes with red-eye reduction, lets you choose ISO settings between auto, ISO100, 200 or 400, offers five different white balance settings (auto, Daylight, Cloudy, Fluorescent, Incandescent), an image stabilizer to stop pictures blurring, and the following resolutions:
5 MP (2592x1944 pixels)
3MP (2048x1536 pixels)
1MP (1280x960 pixels)
VGA (640x480 pixels)
The camera takes 1.5 - 2 seconds to start up, and 2 - 3 seconds to take a shot.
Phew! As you can see, the K850i really does offer the features you'd normally expect from a stand-alone digital camera.
Round 2: the Nokia N95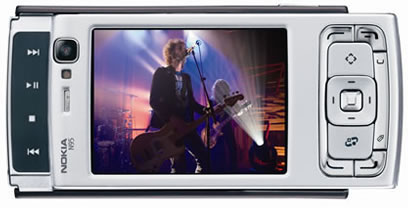 Now for the
Nokia N95
. The N95 has a somewhat more difficult task than then K850i, as despite the fact it too offers a 5 megapixel camera with auto-focus, it also offers so much more. The N95 has to cram in not only HSDPA, but Wi-Fi connectivity as well, plus Sat-Nav and full DVD-quality video recording.
In short, the N95 can be thought of as a jack of all trades, whereas the K850i is the camera specialist.
But it's not quite so cut and dried, though. Despite having to excel at a multitude of different things, the N95's camera is one of the best on the market today, and really gives the K850i's camera a run for its money.
The Nokia N95's camera comes with the following specifications:
Image resolution: up to 5 megapixel: (2592 x 1944 pixels)
Still image file format: JPEG/EXIF
Auto focus
Auto exposure - center weighted
Exposure compensation: +2 ~ -2EV at 0.5 step
White balance: automatic, sunny, cloudy, incandescent, fluorescent
Scene: automatic, user, close-up, portrait, landscape, sports, night, night portrait
Color tone: normal, sepia, black & white, negative, vivid
Zoom: Digital up to 20x (5 megapixel up to 6x)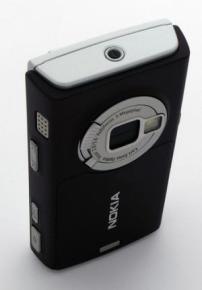 In addition, the optics are first rate, with a Carl Zeiss Tessar lens, while shutter speed is 1/1000 - 1/3 second (note that this isn't and indicator of how long it takes for the camera to store the image though).
Like the K850i, the N95 also comes with a macro mode (macro focus distance: 10 - 50cm) as well a normal focus mode (10cm - infinity), but unlike the K850i, you have to set this manually.
As such, the N95 might come with an arsenal of features besides its camera, but the 5 megapixels on offer is no gimmick: the N95's camera is the real deal.
So just how good are both cameras, and which one comes out top?
Round 3: Sony Ericsson K850i cs Nokia N95 head to head: fight!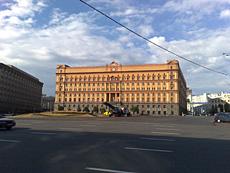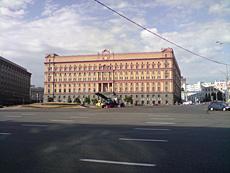 Both camera phones offer exceptional quality pictures. Digital camera purists may mock that no camera phone will ever take good pictures, but they're wrong.
Sure, neither phone can match a dedicated digital camera for quality, but they can both beat the quality from digital cameras that are a few years old, and we all thought they were great at the time.
Comparing photos of the same image side by side (left), there is a clear difference, thanks largely to Nokia's software filters that aim to enhance the image's colours.
In some respects you get a more vibrant (although slightly less natural) image from the N95 (top picture) than that from the K850i (bottom), but at the expense of detail.
Blow up a picture from each phone, and the K850i will show far more detail than the N95's image.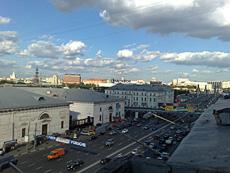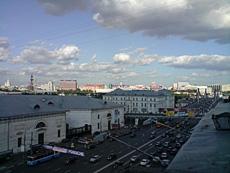 Another example of this can be seen from these other shots (left).
The N95's image (top) looks at first glance the more vibrant of the two, but its details are more blurred.
Blow the two up, and again, you can really see the difference.
Viewing countless images in a wide variety of different settings reveals some differences between the two - sometimes the N95's images are better, but mostly the K850i shades it. In nearly all cases, it's the N95's filters that make the difference, and the choice comes down to whether you prefer sharper colours at the expense of detail (the N95), or the more natural and detailed look provided by the K850i.
The winner...
And so, to the winner - and it has to be the K850i, but only just. The quality, detail and naturalness of its images just shade it over the N95's.
Surprisingly, though, if you're looking to print the photos you've taken, the prints taken from the N95 end up looking marginally better than those from the K850i. However, it's generally a matter of taste, and anyone looking for a top-end camera phone really won't be disappointed by either phone.
Of course, you want to see for yourself in as much detail as possible, so check out
Mobile-Review's
super-huge review of both camera phones to see them get a thorough going over, and for more sample photos from both the N95 and K850i than you can shake a stick at.
Before you do, though, here's a taster of their conclusion:
"If you value truly photographic quality of snaps – look no further, [the Sony Ericsson K850i] has no alternatives. In all conscience I have to admit that the Nokia N95 over the past 6 months has become the most popular 5 Mpix equipped device, but the Sony Ericsson K850i is not only on its heels, it also surpasses it in the imaging department (that's our only focus now).
You can claim, screaming and kicking, that cameras in mobile phone were, are and will be nonsense. But what I really recommend these people to do is take their 10-15 year old photo albums and compare quality of images there with some samples given in this article. The revolution is already here – the Nokia N95, the Sony Ericsson K850i and some models still to come have brought it..."
So there you have it - the two best camera phones on the market today. If you want the best camera phone of them all, choose the Sony Ericsson K850i. If you want the slightly-second best camera phone, but also Sat-Nav, Wi-Fi and a whole host of other features (including push-button uploading of your images directly to Flickr), get the Nokia N95.
A tricky decision to make, but a nice dilemma to have!